exhibit hall vendor application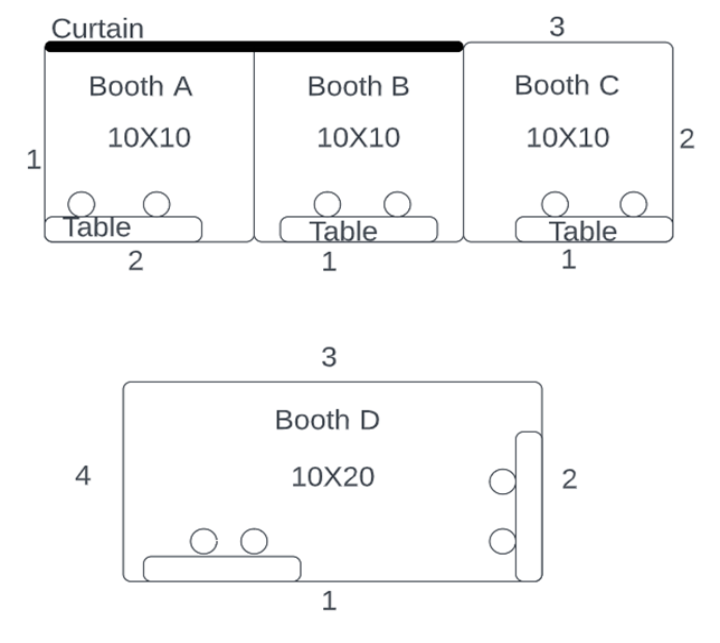 Booth A two sides to sell from – $850
A 10×10 Booth with 2 Sides Aisle + 1 Table and Chair set
Booth B one side to sell from – $800
A 10×10 Booth with 1 Side Aisle + 1 Table and Chair set
Booth C three sides to sell from – $900
A 10×10 Booth with 3 Side Aisles + 1 Table and Chair set
Booth D four sides to sell from – $1750
One 10×20 Booth with 4 Side Aisles + 2 Table and Chair set
please complete the following application form and design your booth style
Please read the following regulations
- MERCHANDISE-IN-KIND will be used as Give-A-Ways at the event or as tournament games if item is one of the tournament games scheduled to be played.
- CAN & CANNOT - Exhibitors will be permitted to bring their own additional tables and chairs if they so chose. They will also be allowed to unload and load their own trucks and trailers. There will be no forklifts or pallet jacks permitted into the exhibit hall since it is a carpeted ball room. If you plan on loading or unloading yourself we recommend bringing your own rolling racks or hand dollies.
- LOSS AND DAMAGE. Exhibitor agrees to be responsible for any and all damage caused by them to equipment or function room, including damage or excessive cleanup made necessary by any setup or teardown. Property & WSBG will not be responsible for the loss or damage of articles left on Property or in function room before, during and after the event. WSBG will provide live security services during the hours exhibit hall is closed.
- INSURANCE. Exhibitor shall maintain at all times during the WSBG Event (Sept 1st - Oct. 1st, 2023) causality & liability insurance covering their business dealings. Property & WSBG reserve the right to require additional insurance based on the type of Exhibitor's business items.


Booth Selection will begin July, 15, 2023 and be done in the order the applications were received.
A 10% non-refundable deposit is due within 15 days of application submission.
Balance in full is due by July 15, 2023 or applicant may forfeit their booth space. Any applications received after July 1, 2023 will be required to pay total bill within 7 days of application submission.